N.Korea Seen Ready for Missile Test Any Time as Drill Approaches
4 min read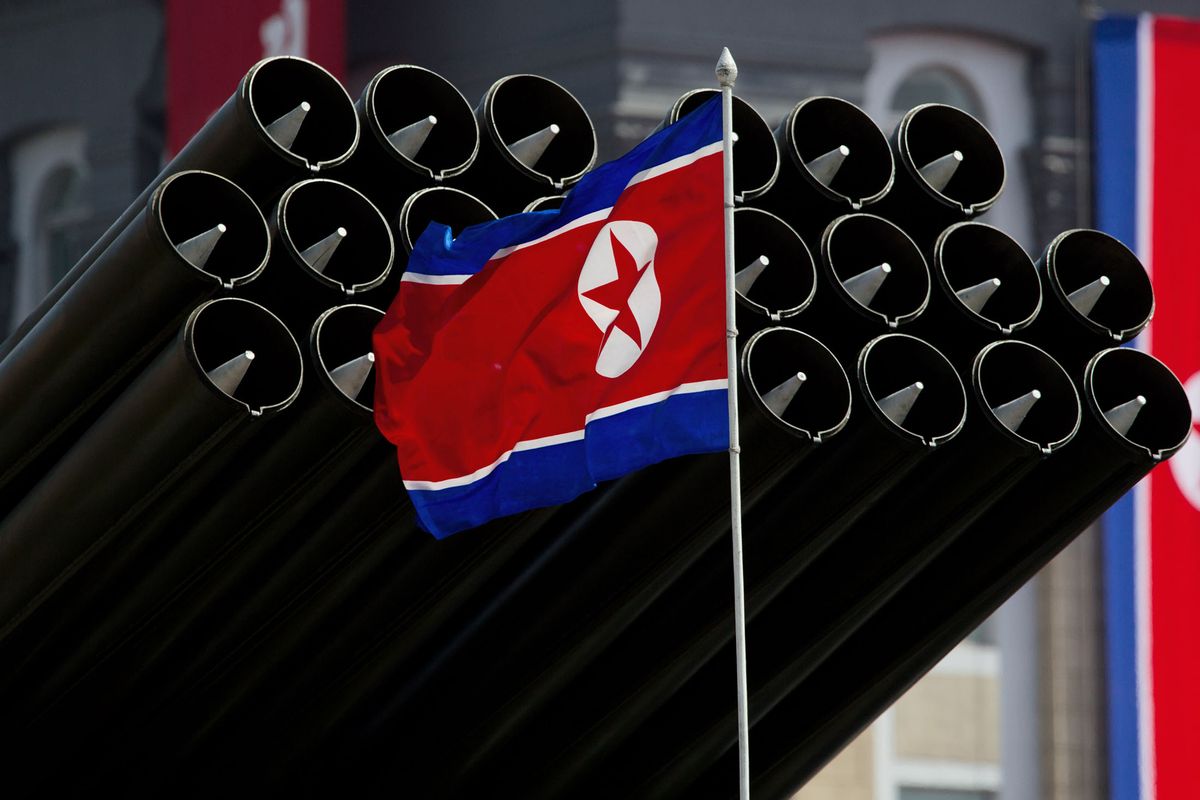 U.S.-S.Korea military drill to be held Oct. 16-20: Yonhap
Donald Trump to travel to S.Korea in November; may visit DMZ
South Korean military officials are readying for another possible missile launch by Pyongyang as they prepare for a joint military drill with the U.S. on the disputed peninsula this week.
Multiple South Korean media reports citing unidentified military officials on Saturday and Sunday said North Korean missile vehicles "kept appearing and disappearing" from the map and "transporter erector launchers" had been spotted carrying ballistic missiles from near Pyongyang and North Pyongan province.
A joint military drill between the U.S. and South Korea will be held from Monday through Friday, Yonhap reported Sunday, citing an unidentified military source who said Pyongyang was ready to fire missiles "any time."
"Anything could happen especially before China's party convention on Oct. 18 and during the time between post-drills and Trump's visits in the region," said Shin Beomchul, a professor at the Korea National Diplomatic Academy in Seoul. "There is also the possibility for North Korea to test shorter-ranged ballistic missiles, which in the past did not lead to UN sanctions." Historically, the North had tended not to provoke directly during the military drills.
North Korea's state-run media agency KCNA on Saturday criticized the joint military exercise, calling it a "reckless act of war maniacs." Earlier, the White House said U.S. President Donald Trump will travel to Asia from Nov. 3-14, during which he will visit South Korea and possibly the demilitarized zone that separates the two Koreas.
As part of this week's drill, the U.S. has deployed the aircraft carrier USS Ronald Reagan to South Korea. The U.S. nuclear-powered submarine Michigan is also likely to take part.
Fighter Jets
Separately, U.S. weapons systems including F-35A and F-22 stealth fighter jets, B-1B bombers and RQ-4 surveillance drones, will participate in the Seoul International Aerospace & Defense Exhibition being held from Tuesday through Friday, although they won't be armed, according to a Yonhap report.
North Korea conducted its sixth and most powerful nuclear test on Sept. 3, and has launched more than a dozen missiles this year as Kim Jong Un's regime seeks the capability to hit the continental U.S. with an atomic weapon. The United Nations has imposed stringent sanctions on North Korea for its weapons tests.
Trump has said all options — including military — are on the table to stop Kim, and the White House ruled out talks with Pyongyang.
A war of words has escalated between the two leaders in recent weeks, with Trump labeling Kim "Rocket Man" and telling the UN that the U.S. would "totally destroy" North Korea if it attacks. Kim responded by calling Trump a "dotard" and warning of the "highest level of hard-line countermeasure in history."
Hydrogen Bomb
Foreign Minister Ri Yong Ho suggested last month that could include testing a hydrogen bomb in the Pacific Ocean. He later said the U.S. had declared war and his country had the right to shoot down American warplanes flying in international airspace. The comments came shortly after U.S. bombers and fighter jets flew near its eastern coastline.
North Korea on Sept. 15 fired its second missile over Japan in as many months, a rocket that flew far enough to put the U.S. territory of Guam in range. The country has repeatedly threatened to launch a missile near the American territory in the Pacific.
In July, North Korea fired two ICBMs on steep trajectories into the sea between the Korean peninsula and Japan. The regime said those launches put the entire U.S. in its range.
Australia Warned
North Korea also turned its focus on Australia at the weekend, warning the U.S. ally of the risks of siding with Trump.
Joining the U.S. in seeking to increase pressure on North Korea would mean Australia "will not be able to avoid a disaster," the state-run Korean Central News Agency on Saturday cited a Foreign Ministry spokesman as saying. "Australia is showing dangerous moves of zealously joining the frenzied political and military provocations of the U.S.," the spokesman was quoted as saying, citing Foreign Minister Julie Bishop's visit last week to South Korea.
"We will not be cowed by the North Koreans," Dan Tehan, Australia's minister for veterans' affairs, told Sky News in an interview Sunday. "We will continue to do all we can to protect and help and support our allies." The international community is prepared to work with North Korea if it meets demands to halt its nuclear-weapons program, Tehan said.
Bishop and Australia's Defense Minister Marise Payne last week visited South Korea, and the demilitarized zone that separates the country from its neighbor, backing potential tougher measures aimed at compelling North Korea to negotiate.